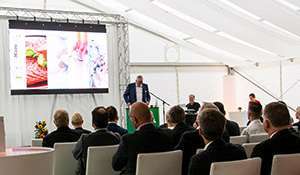 MicroTec GmbH – Exclusive opening ceremony
Steinfeld, Germany. With around 100 invited guests from politics and business the MicroTec GmbH was inaugurated on the 26. October 2018. After the speeches of the partners Gregor Scheffer, managing partner of the Meat Cracks Technologie GmbH, and Jörg Groth, managing partner of the direct starterculturen GmbH, as well as Manuela Honkomp, Mayoress of Steinfeld, and Wiebke Deters, managing director of the MicroTec GmbH, the official opening ceremony was held. The festively decorated production rooms were officially opened by Wiebke Deters, with the ceremonial cutting of a MicroTec opening ribbon.
The guests entered the brand-new production facility with great interest. "In the future, research, development and the production of trend-setting biotechnological products for the food industry, especially the sausage- and meat industry, will take place in this facility" said Wiebke Deters, managing director of the MicroTec GmbH. She further explained that "the fields of competence of the MicroTec GmbH range from screening and development of new microorganisms with special characteristics, scale up into production scale and over to an optimized, economic production."
Gregor Scheffer pointed out that "the possibilities of the MicroTec GmbH are not limited to pure microorganisms. In fact, depending on customer requirements, the range can be-expanded in a medium-term to fermentatively produced products such as flavours, biopolymers or other ferments." Then Wiebke Deters led the impressed guests to the core of the production – the fermenter – and explained the technological characteristics.
The MicroTec sees itself as a medium-sized company with independent competence and expertise in research, development and production of trend-setting biotechnological products. "Our goal is to reach and attract medium-sized companies" explained the managing director when asked about short-term and medium-term goals. "Due to our medium-size, we are very agile and short decision paths allow us to react quickly."
"The extensive research and development work is carried out in-house" Deters proudly pointed out as the guests reached the state-of-the-art laboratory while presenting and explaining some of the lab equipment. After visiting the new offices, all guests gathered in the exclusive marquee and enjoyed the end of the more than successful opening ceremony with finger food, canapes, delicious drinks and wonderful conversations.